Camper trailers have all essentials to make a camping trip compact and pleasant. Even if you're planning a leisure weekend outings or just a touring holiday, an excellent way to go is acquiring a perfect camper trailer for you and your family.
Generally, camper trailers come as soft floor campers or as hard floor camper trailer. Planning on investing in a camper boils down to a useful decision. But certain things you should consider like the camper trailer fitting your needs and is enough safe as well efficient for you.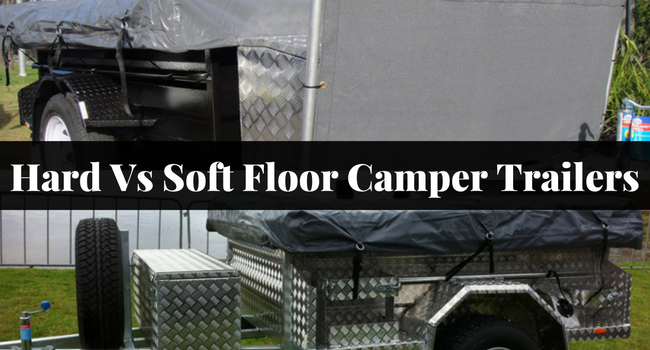 Weighing up the features between both the types of trailers can be a hard work though. Here are the essentials to get you started!
Setting A Budget
Whether you like it or not, buying a camper trailer invites a good amount of budget. Hence, it's important to select a camper that suits your need as well your wallet.
So, what should be anticipated to get for our money?
When made a comparison, soft floor camper is quite easy to buy than hard floor camper. If following the price competition, it really makes a difference. Soft floor campers are a lot more affordable as you'll be hard pressed to find a hard floor camper within your means.
We all have a determined budget. Some have more while some have fewer budgets, if opting of buying off road camper trailer, think twice before initiating!
Storage
Are you looking for spacious storage in a camper trailer offering both the inside as well outside space to utilize? You're better off to go for a soft floor camper.
When compared to hard floor camper, soft floor camper has the reason to invest in. A soft floor camper is roomier and supplies enough internal living space that is incomparable. It has ample space to accommodate you and your family's camping stuff.
Ease Of Towing
Considering the towing capacity is important as well! Hard floor camper trailers usually weigh much more than soft floor trailers. So it basically left us with the option of light weighed trailer i.e. soft floor camper.
Hence, opting for lighter weighed camper trailer is fruitful as it assists in accessing more remote areas as well saving on fuel expenditure.
Maintaining The Hygiene
Any camping trip almost offers an invitation to mud, dust, and dirt its way to the interiors of the camper. Keeping soft floor camper unsoiled is difficult as compared to hard floor camper. So, investing in soft floor trailer may not be a good idea.
Even though, hard floor campers come with a PVC floor criterion they are significantly easier to keep tidy and considerably maintained.
Quick Setup!
Do you think hard floor campers are rapid enough in the terms of setting up? Well, the case might be akin all the time!
You'll come to know the difference if you're camping on an uneven land. As the floor surface is sturdy, a hard floor camper needs lots of adjustments on the legs so that the floor surface meets the ground level.
On the other hand, it's not the case with the soft floor campers. Setting up is easy and trouble-free due to its tent-like structure and spacious storage. A good option to implement!