Have you decided to buy a camper trailer in case you don't have one so that you can enjoy your long weekends and holidays in style exploring the wonderful outback with your family or friends? Well, buying a camper trailer for the first time can be an intimidating task. The most puzzling aspect of the entire process is where to begin, what kind of camper trailer will suit your precise requirements and the money needed. Ideally, it would be a good practice to do some research which can profit you in the long run. And when buying a camper trailer what you really want is reliability.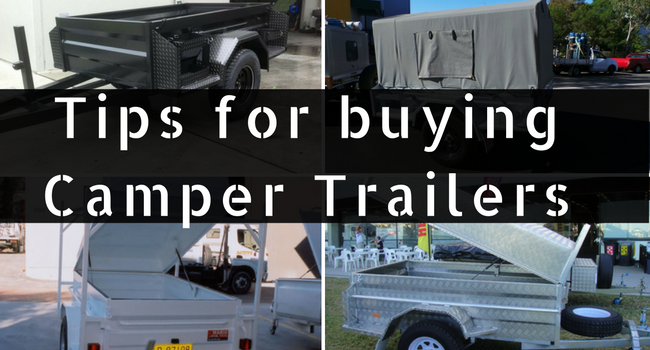 So, Where Should I Start From?
First of all, write down your preferences and what you really want from the camper trailer. Never be ashamed to ask questions to the salesperson; they should be able to answer any of your queries. This will prove they know the product well which they are selling and have confidence in the product. Questions about your specific situation could include:
How much the camper weighs?
Can I get an innerspring mattress as an alternative with my crook back?
What is the dry ball weight? and
Does the camper come with new tyres or second-hand tyres or the kind of alternatives on offer?
Also, due thought should be given to the tow capacity of your vehicle as well as the ball weight, particularly if you have a lightweight 2WD vehicle or probably a soft off-roader also identified as an SUV. For these specifications, check out the vehicle manufacturer's handbook. Bear in mind, overloading can terminate your vehicle's warranty and your insurance. To render good forward travel and tracking qualities, a ball weight should be around 10% to 15% of the trailer's weight.
The Different Kinds of Campers
By now you're well aware that camper trailers are available with different configurations. Some are based on a box trailer and usually have a soft floor while others have a dedicated camper body such as the flip-overs and windups etc. with a hard floor. 
A flip-over camper primarily has a sealed hard top when travelling and opens to the back to become the floor which is suspended off the ground on legs. This is a benefit, particularly when camped on the oblique ground or where the ground may be a bit soggy underfoot or on the beach in soft sand. Right from tow mode, the camper folds in minutes and is ready for an overnight camp with the readymade bed.
For a one night stand, soft floors are also effortless to erect, normally by taking out the soft vinyl tonneaux cover, pulling out the canvas and stretching the internal frame. A couple of tent pegs and ropes would be required to be used by some.
To expose the canvas sides, a windup requires lifting the hard roof up mechanically. The floor is considerably away from the ground with steps into the caravan like interior. When erecting the camp, some have a double bed at the each end which is pushed out.
Definitely, there are many versions of above types of campers; your preference will rely on what fits your personal style of touring or camping, the comfort levels you need and where precisely do you want to take it.
Options and Accessories
You'll have to choose options and accessories depending on where you want to camp and the kind of camper you have. 
An extra large awning can be beneficial has it provides additional shade and protection from the rain.
You can also obtain a tropical roof that renders a cooler internal temperature during daytime. For this, you have to know how much time you will really spend inside the camper during the daytime.
Is it beneficial to carry an extra under-slung water tank or may be just additional Jerry cans in case you're embarking into the isolated areas.
You may require a 12 Volt power system which includes solar panels or a generator if you're going to set up for extended stays that too away from the power source.
A boat rack is a practical thing for your tinnie and doesn't forget about an outboard mount.
At times, full extension walls would be useful; however, you'll have to decide, is it worth hauling around the extra load for the times you're going to use them.
Mario Trailers is an established trailer manufacturer in Sydney having over two decades of experience, supplies a huge range of box and custom built trailers including camper trailers and on road & off road trailers.