About Mario Trailers
About Mario Trailers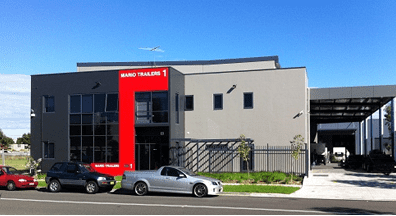 At Mario Trailers, we manufacture and supply
a complete range to tough and reliable trailers.
Australian family owned business
23 Years of Experience
Manufacturing and Distribution from Australia
Australia Wide Delivery
Mario Trailers is a licensed motor dealer (License MD18875) and all of our trailers fully comply with the N.S.W. Vehicle Standards Act 1989. From our factory, located in the Sydney suburb of Auburn and our showrooms at Cardiff, you can choose from a huge range of box and custom built trailers.
In addition to these standard trailers we also build trailers to suit your specific requirements.
All you have to do is determine what you want and our professional engineering tradesmen will help you to design and build precisely what you need
Our Range of trailers includes:
Box Trailers of all sizes
Tandems
Car & Bike
Off Road Camper and Tents
PMG
Tradesman
Tipper
Machinery
And Many More !
Since our company's inception we have supplied trailers (along with parts and services) to Companies large and small and Government Departments at all levels. These have included:
RSPCA
Dulux Australia
NSW Police
Michele's Patisserie
Sydney Royal Easter Show
Bankstown City Council
Abigroup
Sydney Water
And Many More !
Insurance
All our trailers are covered by Public Liability Insurance for your protection and safety.
All trailers come with a 12 months manufacturing warranty covering parts & Workmanship..
Registration - Mario Trailers will register the trailer for you.All you have to do is provide us with the documents that are needed for registration. The requirements for registration are as below.
In NSW
Individuals
Current copy of N.S.W. drivers licence
Companies
NSW RTA Customer Number (6 digit number)
Purchase & Registration order on Company Letterhead
ASIC certificate of registration of Company Name
Other States Driving Licence
You must be a NSW resident and provide proof of identification
We require a drivers photo licence that is current, Medicare card or other approved proof of identity ( Proof of identity brochures can be obtained from our office or your Roads and Traffic authority)
A current bill or bank statement with a NSW address
NSW RTA Customer Number
Pensioners Concessions
For further details on these concessions see your department of social security
Pensioners may also qualify for concessions on registration of their trailers. To qualify:
You can only have one vehicle registered in the pensioners name (a trailer is one vehicle)
You must have your pension card present at the time of registration.